BUMPER BARRIERS
New to the Rack Armour family, our Bumper Barrier range is made from the same components as the industry leading Rack Armour upright protector, giving it the same impact and absorption qualities on a larger scale.
Our Bumper Barriers have been designed to absorb and disperse energy from everyday impacts that would render metal systems damaged and in need of repair. These barriers can be utilised in variety of applications, from warehousing to carparks, airports to manufacturing centres.
Colour/Detection: Standard metal systems are often a drab and dull metallic colour making them almost unnoticeable to warehouse staff. Rack Armour barriers are a striking high visibility yellow, making them detectable to mechanical handling equipment operators, this in the first instance helps stop impacts from occurring at all.
Strength: Rack Armour barriers flex and absorb impacts which would render metal systems useless. They have a unique feature which enables the product to reform to its original shape after impact, giving you a product which can concede impacts all day every day and look like it's been untouched hours later.
No painting: Rack Armour barriers are made from a solid high visibility plastic, this gives our barriers a clean and tidy appearance even after years of service and numerous impacts. Metal systems can often appear tired and in need of repair, a level of maintenance is required including painting which takes time and money.
Minimal Floor Damage: A standard metal barrier has no absorption qualities, this means that all the impact energy from collisions transfer straight down to the expensive concrete floor. This in most cases leaves you with not only a damaged barrier that needs replacing, but also a crumbled floor that needs relaying can be extremely expensive and time consuming work. A Rack Armour barrier flexes and absorbs impact energy through its unique foam interior, eliminating any transferable energy away from your floor, in turn saving you thousands in repair costs.
Absorption: Rack Armour barriers use the same unique foam diffuser as in the upright protector, helping to diffuse impact energy whilst a collision takes place.
Rack Armour Barrier Testing
The Rack Armour barrier range is the culmination of years of pain staking research and design, looking into what the market has to offer and improving on that to offer you the end user a product that has no negatives.
To do this our barrier range was tested comprehensively on our in house testing rig which enabled us to fine tune any issues and create a final product which not only exceeds European safety standards, but sets the bar for the industry as a whole.
---
PRODUCTS IN THE BUMPER BARRIER RANGE
Floor Rail Barrier– Small, effective and extremely tough
The perfect solution for damage at low levels due to order pickers. The Rack Armour Low Level Barrier is made from our innovative ballistics grade materials which takes knocks and bumps from MHE that would otherwise render your racking or shelving damaged. This barrier is extremely popular with picking areas where fork lift trucks don't operate, giving you a small yet extremely effective obstacle for all MHE.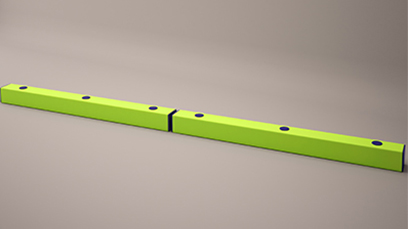 Single Bumper Barrier– The original and best
A must have barrier for any warehouse. The barrier is our most popular design giving users the right amount of visibility and strength whilst maximising space.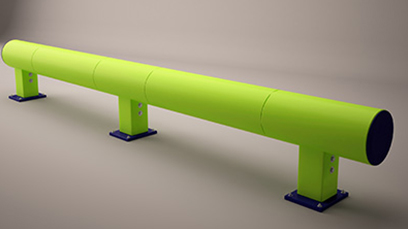 Double Bumper Barrier– Double your protection
Doubling the protection value of a standard single bumper barrier, this product is a must have for those warehouses with large MHE moving product at a high frequency.